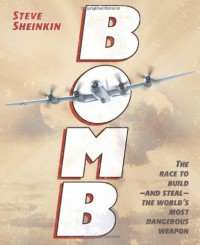 Please note that this book has received awards for its excellence for young adults. I was hesitant at first because I was looking for an adult book covering the science and history on the making of the first nuclear bomb and about Robert Oppenheimer, the father of that first bomb. This book is not in any way childish. It gives a clear and concise history of all the events. I am completely satisfied with the book. It is an excellent place to start. Having read this you want more details, more in-depth information about the main characters. I prefer starting with a background of the entire event before plunging into a book focused on Oppenheimer himself. Now I want to know more about this man. He is fascinating; first he makes the bomb and he is at the same time one of first to be aware of its dangers! I have already begun American Prometheus by Kai Bird, a biography focused just on Oppenheimer.

I gave this book three stars because I like it. It reads like a good Wiki article. It has all the prominent facts. This happened and this happened and then this. One event after another. You get a picture of the path toward the making of the bomb, its actual construction and the political environment of those times – WW2, the race for the scientific knowledge and McCarthyism. It is amazing how differently the people spying for the Soviets were punished….and why each thought the Soviets should have this knowledge.

Having read this book, I now can easily go further. There is little character analysis in this book, and that is what I am looking for in my next book on this topic. You certainly cannot start your education in the tenth grade…..now I have prepared myself.

Concerning the audiobook narration by Roy Samuelson, it was excellent. He doesn't overdramatize the lines or the events. They are exciting in themselves and do not need extra emphasis. Good speed and clear enunciation too. I can highly recommend this as an audiobook.