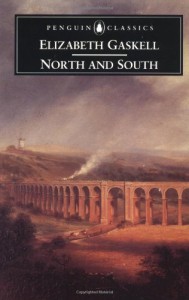 2 stars
All of my reviews are extremely personal. They only reflect my personal reaction to the given book. I explain what exactly I like or dislike in the hope that others will thus be able to determine how they will react to the book. My reviews are not a judgment of the book or the author!
Gaskell is a Victorian writer. This is evident in her prose style and in the life style of the people she puts into her novels. To like her books it helps to not be frustrated with Victorian manners. I react violently against such mannerisms.
He had had exaggerated ideas of the change which his altered opinions might make in his friends' reception of him, but although some of them might have felt shocked or grieved or indignant at his falling off in the abstract, as soon as they saw the face of the man who they had once loved, they forgot his opinions in himself or only remembered them enough to give an additional tender gravity to their manner.
(chapter 41)
Gaskell knows how to play with words. Her writing is indeed often eloquent. As you see here, it is however not straight-forward. You must wade through the words. True to the prose and manner of Victorian times, all criticism must be properly cushioned. Or try this:
….and first found the passionate relief of tears on her aunt's shoulder. All thoughts of quiet, habitual love, of tenderness for yeas of relationship to the dead, all that inexplicable likeness in look, tone and gesture that seemed to belong to one family, and which reminded Margaret so forcibly at this moment of her mother, came in to melt and soften her numbed heart into the overflow of warm tears.
(chapter 42)
Gaskell has a wonderful command over her words, but the wordiness and the stiffness in speech and manners annoy me. How do your react to these lines?
The workers do speak more directly, more coarsely which counter-balances the politeness and stiffness of those of higher standing. I cannot copy such passages from the audio version I listened to, but I have to mention it. I not only preferred their speech but also the personalities of these characters. Margaret, the main character, was a "Miss Goody-Two-Shoes" for me……. Some characters you will like, others less so. Their portrayal is not two-dimensional.
So what is the point of the book? What will it teach you? It is a book of historical fiction. The agrarian south and the cities of the north where factories are taking over the landscape and changing the lives of all the people living there are superbly depicted. This was England in the 1800s.This is what I liked most about the book. Unions and strikes and the ideas that drive the new industrialists versus the sentiments of the labor and the clergy are poignantly portrayed. Through Gaskell's imaginary characters we live the lives of a vicar, a manufacturer, union leaders, lawyers and women - poor and wealthy, frivolous and serious, maids and damsels and stout righteous women. Through all of them we come to understand why their views are so different.
This depiction of the different classes is not enough to keep the book afloat, so romance is thrown in. You must like a good romance story. I knew about 1/3 of the way into the novel who was going to end up with whom……and in the very last chapter I was of course proven right. I just thought…..finally! But maybe you adore novels of romance.
I listened to the audiobook version narrated by Juliet Stevenson. I think it is her that pushed me to continue listening. Excellent narration.
I tried to widen my reading scope. I have failed, but I know now that Victoriana is not for me even when I am in the hands of a talented author and superb narrator. I want to thank Jeanette for recommending this book to me.